So you've conquered "Introduction to Burlesque" and are now beyond "Burlesque for Beginners" – now what? If you're ready to take the next step on your journey to diva-hood, this intermediate-level class is for you! Each class series will focus on a variety of burlesque techniques that take what you learned in Introduction to Burlesque to a whole new level. Students will learn more advanced moves and removes and how to develop their own burlesque style.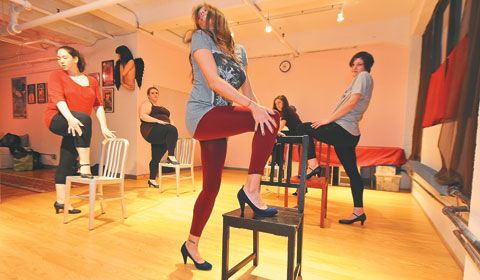 Upcoming Classes
No classes in November or December. 
Burlesque: Your Way
Tuesdays, January 9, 16, 23, 30 and February, 6, 13, 7:30-9pm
Instructors: Miss Mina and Scratch
Location: Tony Williams Dance Center
Price: $195 for six classes
REGISTER NOW!
You've learned some burlesque moves but you want to take your tease to the next level. Now what? How do you put your personal spin on all those bumps and grinds to create one smooth, sexy number? Burlesque Your Way will show you how! 
This class is designed for those students with basic burlesque training who want to develop a striptease routine from start to finish and perform it for an audience. This intensive course covers everything from picking music to costuming to story-line and choreography. Throughout the class, students will polish their burlesque skills, while learning performance tips and getting advice and guidance on all aspects of burlesque performance from Miss Mina (B.A.B.E. headmistress) and Scratch (BeauTease Burlesque director). Burlesque Your Way is recommend for students who have taken our Introduction to Burlesque classes or who have had some other burlesque instruction.
In this course, students will develop their own complete burlesque routine. Students who successfully complete the course will be able to perform their creations at a Student Showcase in March.
Enrollment in this intimate and intensive class is limited to ten students to ensure that each student is afforded the personalized coaching needed to perfect their routine.
Please Note: If you cannot attend the course or a session of the course for which you have registered, you may not transfer or cancel your registration.
By registering for classes, students agree to the following:
With any physical activity, there is a risk of injury. Students assume all risk and should consult a physician with any concerns before beginning a dance class.
All material presented in B.A.B.E. courses is for personal, non-commercial use only. All lesson plans, routines, choreography, and combinations taught at B.A.B.E. are the intellectual property of The Boston Academy of Burlesque Education® and may not be used or performed without express permission.
Student images and names may be used for promotional material.